Thursday, November 19th, 2015 at 8:30 AM

-

5:00 PM

The Next Wave of Health Care Reform: Delivery System Transformation
Were you there? If not, you missed an informative and lively event!
More than 200 people attended HPA's 2014 Annual Conference on November 20th—an informative one day event looking at ongoing efforts to reshape the health care delivery in New York and across the nation.
If you weren't there, here are some highlights from the conference that you missed:
NCQA's Margaret O'Kane, who kicked off the day, told people that "collaboration is critical" for system reform.
Courtney Burke, Governor Cuomo's Deputy Secretary for Health, noted "we're all accountable" when it comes to improving outcomes.
Melinda Abrams from the Commonwealth Fund said "System reform is messy …but in the end is important to do."
NY Medicaid Director Jason Helgerson told the audience that through reform, "we can reduce costs and improve quality."
A panel of antitrust experts looked at  the issue of collaboration without crossing the antitrust line.
NY State of Health Executive Director Donna Frescatore highlighted changes to New York's marketplace, including easier shopping and new tools to help consumers compare plan options.
Looking at the role health care played in this year's elections, Bob Bellafiore from Capitol Tonight's "Insiders" concluded that "health care is complicated and doesn't fit on a bumper sticker."
Thanks to all who made the day a success. Hope to see everyone at the 2015 Annual Conference!
 "Quality Care and the Empire State"
Margaret E. O'Kane is President of the National Committee for Quality Assurance (NCQA), an independent, non-profit organization that improves health care quality through measurement, transparency and accountability. Ms. O'Kane has served as co-chair of the National Priorities Partnership and is a board member of the Foundation for Informed Decision Making and the American Board of Medical Specialties. She was elected a member of the Institute of Medicine in 1999 and received the 2009 Picker Institute Individual Award for Excellence in the Advancement of Patient-Centered Care. She received the Gail L. Warden Leadership Excellence Award from the National Center for Healthcare Leadership in 2012. Modern Healthcare has named O'Kane one of the Top 25 Women in Healthcare three times, most recently in 2013. A master's degree holder in health administration and planning from Johns Hopkins University, Ms. O'Kane is a recipient of that university's Distinguished Alumnus Award.
Medical and Pharmacy Directors' Breakfast
William Henderson, SVP Data Analysis and Research, NIA Magellan
Opening Remarks
Courtney Burke, Deputy Secretary for Health, Office of Governor Andrew M. Cuomo
From SHIP to DSRIP-Reforming New York's Delivery System
Moderator: Michelle Marto, VP for Government Affairs, United Health Group
Panelists: Melinda K. Abrams, M.S., Vice President for Government Affairs, Commonwealth Fund Health Care Delivery System Reform Program; Jason A. Helgerson, Medicaid Director/New York State, Deputy Commissioner/New York State Office of Health Insurance Programs
Lunch Speaker
Donna Frescatore, Executive Director, NY State of Health, The Official Health Plan Marketplace
Collaborating Without Crossing the Line
Moderator: Harold N. Iselin, Esq., Managing Shareholder, Greenberg Traurig
Panelists: Alexis James Gilman, Esq., Managing Shareholder, Greenberg Traurig; Elinor R. Hoffmann, Esq., Deputy Bureau Chief, Antitrust Bureau, Office of the New York State Attorney General; Mark Thomas, Esq., General Counsel, Healthcare Association of New York State (HANYS)
Red State, Blue State-How Health Care Played From Potsdam to Peoria
Moderator: Elizabeth Benjamin, Reporter/NY1 and Time Warner Cable News; Editor-in-Chief/"State of Politics;" Host/Capital Tonight
Panelists: Steven A. Greenberg, Greenberg Public Relations; Robert Bellafiore, Stanhope Partners
View Presentations: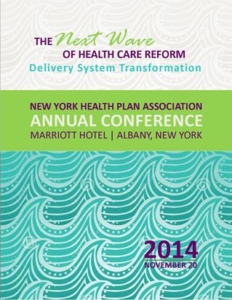 The Next Wave of Health Care Reform: Delivery System Transformation
"In April 2014, New York State and the Centers for Medicare and Medicaid Services (CMS) signed a new Delivery System Reform Incentive Payment (DSRIP) waiver. The chief goal of the waiver is to transform the state's health care delivery system by creating platforms for developing an integrated delivery system. The waiver puts an emphasis on restructuring the health care safety-net and improving quality outcomes. While we all agree with these goals, concerns exist about implementation of this ambitious program. The success of this program will depend upon collaborations among a broad array of providers and others working together to achieve these goals."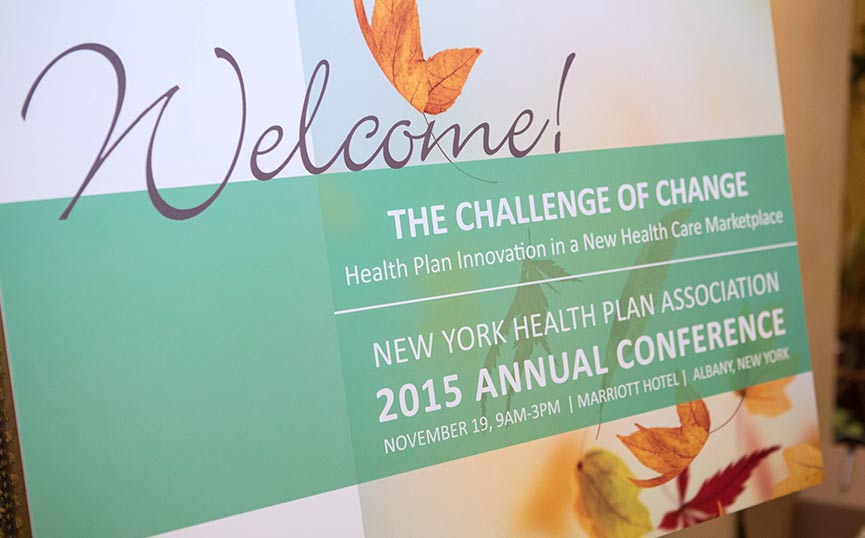 We hope you were able to join us at the 2015 Annual Conference. We hosted more than 200 people who were in attendance on November 19th at the Albany Marriott Hotel as well as 40 exhibitors who were there to share new products and ideas.
If you weren't there, here are some highlights from the conference. Thanks to all who made the day a success, and we hope to see everyone at the NYHPA 2016 Annual Conference!