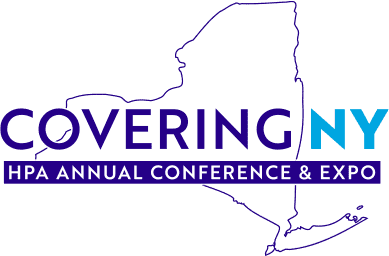 November 16, 2023
Albany Capital Center, Albany, New York
Pre-Conference events to be held on November 15th.
Save the Date for Covering NY 2023!
Covering New York — HPA's 2023 Annual Conference & Expo — provides an opportunity to connect with thought leaders from across the health care spectrum and gain insight into the most important issues facing the future of health care in New York. Registration will open in July, 2023. Please continue to check this page for updates on the agenda, speakers and sponsor/exhibitor information. If you have any conference questions please contact Arlene Halpert at ahalpert@nyhpa.org.
Sponsors & Exhibitors
HPA's Annual Conference attracts more than 300 managed care professionals and other high-level executives and key leaders in the health care industry. As a sponsor and exhibitor you will have an opportunity to showcase your products and services to senior management from health plans, hospitals, physician groups, business leaders, state policymakers and other key leaders in health care.
Ready to become a Sponsor/Exhibitor?
To become a sponsor or exhibitor for this year's event, please follow the registration link below, or click here. Have questions? Contact Arlene Halpert at HPA by sending an email to ahalpert@nyhpa.org.
Registration
coming soon!
Our 2023 Sponsors & Exhibitors